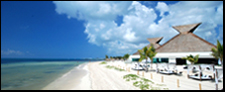 Join us for a week or just 1-2 days at the Blue Bay Grand Esmeralda in the Beautiful Mayan Riviera.

We have arranged such a spectacular room rate at this beautiful new all-inclusive resort that our wedding will just be an excuse for you to get away!! The hotel will honor our great rate even if you want to stay a week after our wedding to languish in paradise on your own. One more thing... the more people who show up, the lower the rate drops.
When should you be there?
We will be arriving on Monday, April 7th, 2008 and leaving the following Monday, April 14th, 2008. The Roast 'n Toast will be on Friday night and the Wedding Ceremony and Reception will take place on Saturday, April 12th, 2008.
How do you get there?
A number of major airlines fly direct to the stunning new Cancun International Airport (CUN) in Mexico on the Yucatan Peninsula. Once you arrive, it is only a 35 minute ride to the resort which is just north of the quaint and charming town of Playa del Carmen. Check out the "HELPFUL HINTS" page above for airlines, taxi rental, cell phones, passport info, etc.
What to wear at the Ceremony:
While it is a beach ceremony, we request that you wear cocktail attire; no t-shirts, jeans, shorts, polo golf shirts, Hawaiian pattern shirts, etc. But then again, shoes are optional and NO ONE is allowed to wear a tie - if you do, I will have a scissor handy to cut it off! Jackets are optional.